The Special Chiefs Assembly is a duly convened political meeting where BCAFN membership may determine the mandate and direction of the BCAFN. 
The BC Assembly of First Nations (BCAFN) will host the 16th Special Chiefs Assembly on March 4 & 5th, 2020 on the Territory of the Snuneymuxw First Nation, Nanaimo, BC at the Vancouver Island Conference Centre.
FINAL NOTICE pdf

SECOND NOTICE pdf
Book hotel accommodation at the Coast Bastion Nanaimo. Mention BCAFN for special rates.
Book hotel accommodation at the Best Western Dorchester. Deadline-February 14, 2020.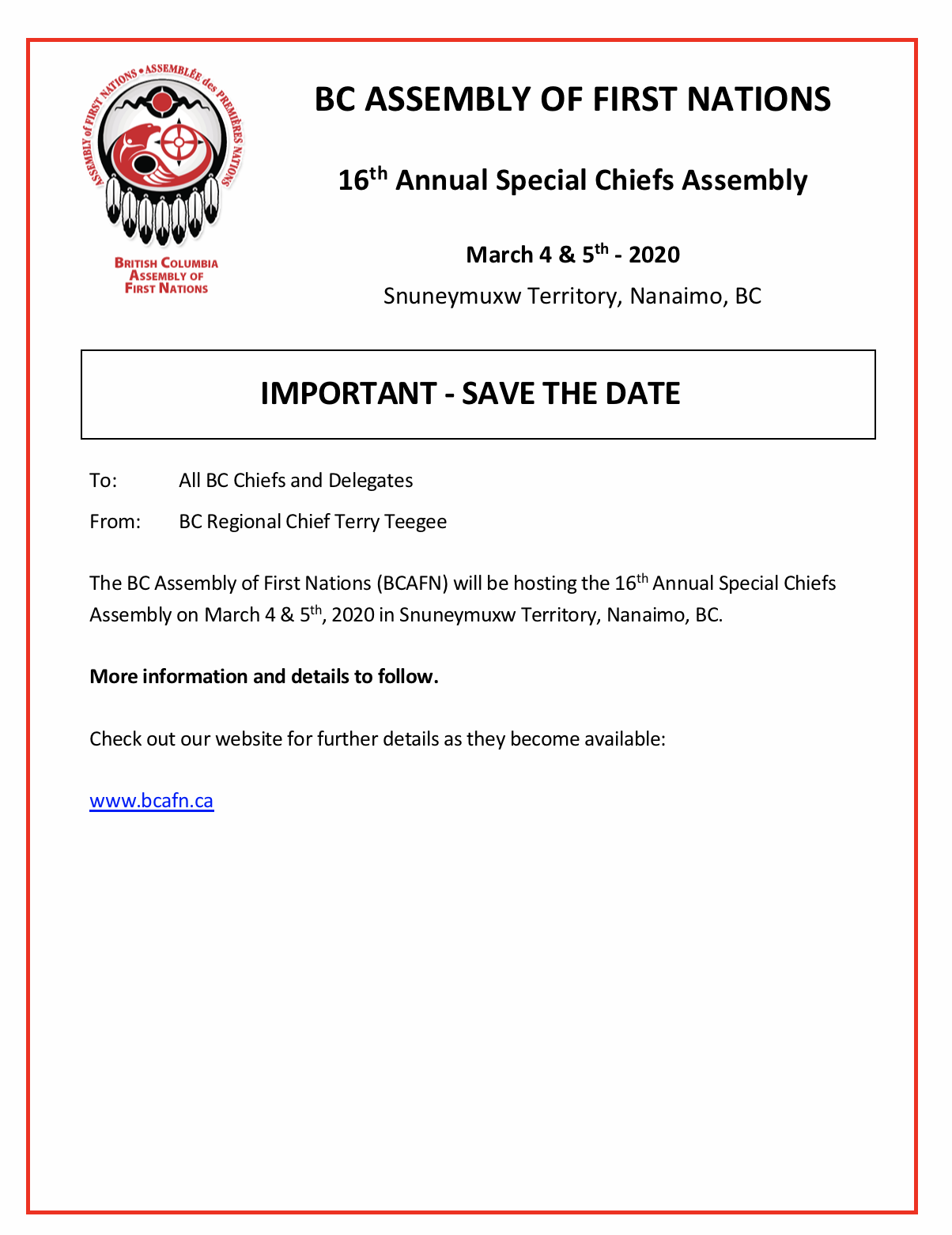 Proxy Letter: For those who are not able to attend these meetings, a proxy form is provided. Completed proxy forms may be emailed or faxed to our office ahead of the annual Special Chiefs Assembly. After that date, proxy holders must bring the completed proxy form to the Special Chiefs Assembly.
Travel and Accommodation Notice: Travel and accommodation expenses are generally provided for BC Chiefs or Chiefs' proxy to attend this Special Chiefs Assembly. 
Notice of Resolutions: Resolution submissions are requested in advance. Please use the included resolution template and submit to our Senior Policy Advisor, Maureen Buchan, via email: maureen.buchan@bcafn.ca
RESOLUTIONS are the essential mechanism by which First Nations provide mandates and directives to the BC Regional Chief.
ADVANCE RESOLUTION SUBMISSION IS REQUESTED. In order to facilitate a more efficient and effective resolution process, resolutions for consideration at a BCAFN Assembly should be received at least 5 business days prior to an Assembly, include a completed resolution and background information and/or supporting documentation.
This should allow sufficient time for resolutions to be reviewed, edited, approved and copied prior to distribution at the Special Chiefs Meeting, which in turn should result in more time for review, consideration and discussion of resolutions on the floor. We look forward to your cooperation in implementing this request for advance submission of resolutions.
SUBMITTING A RESOLUTION: Please complete the attached draft resolution template and send by email to Maureen Buchan, Senior Policy Advisor at maureen.buchan@bcafn.ca.