Vanessa West, Chief of Staff
Vanessa (she/her) is a member of the Lheidli T'enneh First Nation and had served as an elected member of Council from 2001 to 2009 and from 2015-2019. She previously worked as the Treaty Office Manager for the Lheidli T'enneh Treaty Office for nine years from 1998-2007. Prior to taking on the role of Chief of Staff for the BC Assembly of First Nations, she worked with Positive Living North, an Aboriginal HIV/AIDS non-for-profit service organization, transitioning her career from First Nations politics to the social services field. Initially managing the street-level HIV/AIDS/HCV Prevention Program, the Fire Pit Cultural Drop-In Centre in 2007, she then moved into the role of Executive Director, which she held from 2008 to 2018.
To expand her knowledge and understanding around addictions and street- involved populations, she began working for the AIDS Prevention Program/Needle Exchange in Prince George from 2008 to 2013 as an after-hours Intake/Support Worker. During this time, Vanessa also volunteered as a Board Member for the Canadian AIDS Society and served two terms with this national organization.
Vanessa is the proud mother of three children, Jordan, Alexandria and John-Michael. She currently lives in her community with her partner of ten years, Randy, and joined the BCAFN team in April 2018.
Victoria Austin, Executive Assistant
Victoria Austin is of the Gitksan and Wet'suwet'en Nation and is from Tse-Kya (Hagwilget, BC). She has resided in the Prince George area for 24 years and has been working with First Nations in the Central Interior for the past 22 years. Victoria continues to reside in Prince George with her husband Roland.
Victoria has worked at the Carrier Sekani Tribal Council for a great number of years and has had the pleasure of working with many leaders that negotiated for the Pathways Agreement for the Carrier Sekani First Nations. Victoria has worked as the receptionist, Land Use Planning Administrative Assistant, and Executive Assistant. Victoria has also worked for the Tsay Keh Dene Band and Prince George Nechako Aboriginal Employment in administrative positions.
Victoria is also involved in the street ministry known as the Street Church Mission of Prince George which has allowed her to assist in the weekly operations of serving a hot meal to the homeless in downtown Prince George. Victoria is currently the secretary/treasurer in the ministry and encourages others to give back to the community in ways such as feeding the homeless or other ways.
Victoria is currently the Executive Assistant to Regional Chief Terry Teegee, Emergency Response Administrative Coordinator and Residential School Technical Committee Support for the BCAFN. 

Maureen Buchan, Senior Policy Director
An Anishinaabe from Bearskin Lake First Nation in Northern Ontario, Maureen has over 15 years of experience working for First Nations Political Organizations. She has a Master of Arts in Indigenous Governance from the University of Victoria as well as an Advanced Bachelor of Arts in Political Science and Government from the University of Manitoba
Maureen was formerly an Associate Faculty Member at the University of Victoria and has worked as a Policy Analyst and Specific Claims researcher for the Union of BC Indian Chiefs (UBCIC). Other experience includes research work for various organizations including the Assembly of Manitoba Chiefs, Nicola Valley Institute of Technology, and Musqueum Nation.
As co-founder of Sparrow-Grant Consulting, Maureen has provided policy, political, and strategic advice for a number of BC First Nations. A proud mother of two, Maureen currently resides on Musqueam Territory.
Jaime Sanchez, Special Advisor to the Regional Chief
Jaime has over 15 years working with First Nations in BC focused on building capacity, policy and strategic advise, natural resource management and negotiations with the Crown and industry. Some of his accomplishments include establishing a centralized mapping office, providing certified aboriginal land use planning training, co-designed and delivered a First Nations Referrals Officer Program, as well as assisting with multi-million-dollar negotiations for energy projects and reconciliation agreements.
Jaime is a Registered Professional Planner (RPP), and Member of the Canadian Institute of Planners (CIP), having graduated from the University of Northern British Columbia (UNBC) in 2005 with a degree in Environmental Planning, with a focus on First Nations Community Planning.
As a first-generation Canadian living with his two sons in Snuneymuxw territory (Nanaimo), Jaime is passionate and dedicated to being part the reconciliation needed in Canada. His own family was displaced due to the military dictatorship in Chile in the 1970s, which has informed his drive and passion for seeking solutions to conflicts and restitution of historic wrongs.
Melanie Lyons, Finance Manager
Melanie is a Certified Professional Accountant (CPA, CA) and a member of Katzie First Nation in Pitt Meadows, BC but grew up on Katzie IR#2 in Langley, BC. Katzie is a part of the linguistic family that is the known as the downriver dialect of Halkomelem, the language shared by the peoples residing on the rivers and shores of the Salish Sea. q̓íc̓əy̓ means "the land of the moss," and is also the name of the village site on the Fraser River near the present day community of Port Hammond.
Melanie has worked with Alberta First Nations in an audit role and as a Financial Controller. Melanie has also worked with many First Nations throughout B.C. and across Canada in her previous role with the First Nations Financial Management Board. Melanie currently lives in Prince George, B.C. and joined the BCAFN team in May 2018.
Annette Schroeter, MA, Communications Officer
Annette (she/her) was born to Anishinaabe and German parents in Prince George, BC and is a member of the Muskrat Dam First Nation located in northwestern Ontario. Most recently she worked for the Carrier Sekani Tribal Council as the Communications Coordinator and has also worked with First Nations communities in northern Ontario in a liaison capacity. Annette has a Master of First Nations Studies and Bachelor's Degree in History and Anthropology from the University of Northern British Columbia. She also holds a Bachelor's of Design from Emily Carr University of Art & Design.
Patricia Rojas, Regional Climate Change Coordinator
Patricia is the BCAFN's Regional Climate Change Coordinator. She has worked for over 15 years with indigenous peoples focusing on the protection of collective rights, social and environmental justice, and self-determination.
Her experience providing technical and strategic support to indigenous communities includes: policy analysis and political advocacy related to mining, climate change and environmental issues; engagement with mining companies and governments; and, reform to Peru's water protection and governance laws. Other experience includes measuring carbon footprints, teaching and curriculum development.
She received a Master's Degree in Sustainability, with a speciality in Policy Analysis, from the Polytechnic University of Catalonia (Barcelona, Spain); and a Master's Degree in Social Management from the Pontifical Catholic University of Peru, and a Bachelor Degree in Civil Engineering from the University of Cajamarca.
Patricia is a first-generation Canadian from Peru, and her extensive work experience has been primarily in Latin America and Europe. She is passionate about climate and social justice for indigenous peoples and believes that these are intrinsically linked. She is excited to work for BC's First Nations because she believes that indigenous peoples' values, knowledge and systems of governance are essential to address climate change.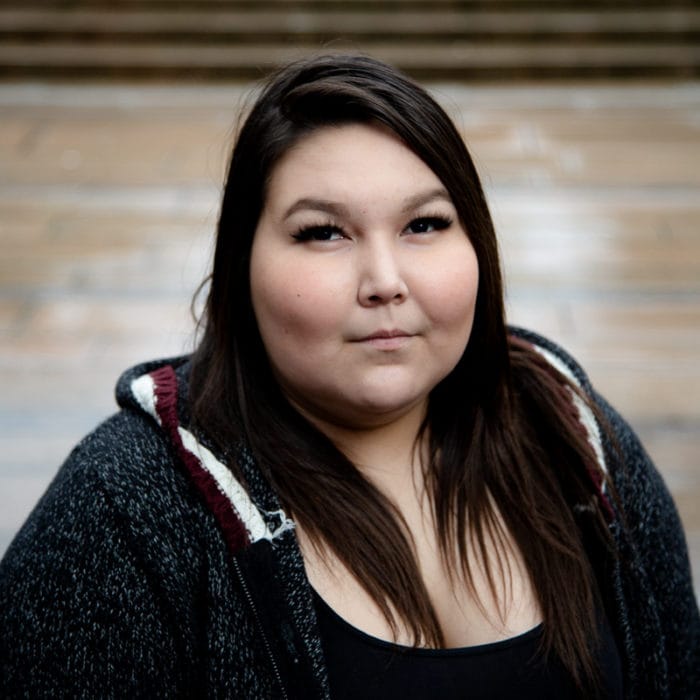 Samantha Seymour, Administrative Support Worker
Samantha (she/her) has just started as the Administrative Support Worker at the BCAFN. She is a proud member of the Lheidli T'enneh Band and recently finished a position as a Community Engagement Intern for the Lheidli T'enneh Treaty team.
Samantha attended school at Kelly Road Secondary and graduated in 2015. Her goal is to acquire more knowledge in administrative duties and further develop a work ethic that will benefit herself and her community.
Sarah Froese, Senior Policy Analyst
Prior to joining the BC Assembly of First Nations as a policy analyst Sarah completed her Masters in Public Policy and Global Affairs at the University of British Columbia. Here, she developed skills in policy analysis and interdisciplinary technical knowledge, focusing on issues of jurisdiction, governance, and community engagement in the context of the climate crisis, environmental impact assessments, and renewable energy. She also holds a Bachelor of Arts (Hons) in Psychology from the University of Manitoba. 
Sarah grew up in a Mennonite community located in Treaty 1 territory before moving to Vancouver. She is now grateful to be residing on the unceded territories of the Xwməθkwəy̓ əm, Sḵwx̱ wú7mesh, and Səlilwətaɬ peoples. Sarah enjoys being active in her community, listening and learning, practicing Argentine tango, and spending time outdoors.

Joanna Prince, Administrative Project Support
Joanna is a member of Nak'azdli Whut'en First Nation and has worked with indigenous groups and people for the last 23 years in a variety of roles that include administrative positions, an intake worker for family support, resource social work, aboriginal group home support worker, aboriginal child in care liaison, office management, and event coordinator. She brings with her a wealth of knowledge related to social issues and stigmas that Indigenous peoples have experienced on and off reserve, particularly related to youth.
Joanna has also worked in a variety of physically demanding jobs such as tree plant nursery work, residential frame carpentry, and collecting pine seeds in the forests in Northern BC. Joanna's hobbies consist of hiking, snow shoeing, snowboarding, camping, mountain biking and travelling the globe
Sophia Iliopulos, Regional Water Coordinator
Prior to joining the BCAFN team, Sophia was introduced to the multi-faceted aspects of First Nations governance including researching and writing policy, engagement and facilitation as well as negotiations and relationship building with government and industry in her work with the McLeod Lake Indian Band as the Chief's Executive Assistant. She holds a double major in International Studies and Political Science with Honours from the University of Northern British Columbia (UNBC). Her interest in water conservation grew when she was selected to be part of a youth capacity-building mentorship program with the Fraser Basin Council as part of the Fraser Salmon and Watersheds Program. She also co-hosted UNBC's Environmental Radio Show which was a weekly program that addressed topics on climate change, environment, and water in BC and beyond. During her undergraduate degree, she worked at the City of Prince George as a certified Water and Wastewater Operator where her passion for water stewardship continued to evolve towards a more holistic understanding of water cycles and water security. She is a second-generation settler with predominantly Greek and Irish ancestry. Sophia was born, raised, and currently resides as a guest on the unceded territories of the Lheidli T'enneh First Nation.
Taylor Arnt, Policy Analyst
(she/they) is of mixed Anishinaabe and European heritage, from Treaty 1 territory near Winnipeg, Manitoba. She is a member of Tootinaowaziibeeng Treaty Reserve, which is situated on Treaty 4 territory and signatory to Treaty 2. They now reside as a guest on  Xʷməθkʷəy̓əm, Sḵwx̱wú7mesh and səl̓ilwətaɬ territory.
Prior to working as a Policy Analyst for the BCAFN, Taylor was one of the first Indigenous Peoples Specialists hired by the Canadian Red Cross, and deployed to assist 10+ First Nations communities through public health and climate crises. She has 4 years of experience working for the Federal Public Service, and holds a Bachelor's degree in Public Affairs and Policy Management. They joined the BCAFN in November 2021, and are excited to advocate for title, rights, and treaty rights alongside the policy team.
Sarah Behn, Economic Development Policy Analyst 
Sarah is a band member of Fort Nelson First Nation and a community member of West Moberly First Nations, both located in Northeastern British Columbia. She has a Bachelor of Commerce in Entrepreneurial Management from Royal Roads University. Prior to joining the BCAFN, she worked as an independent consultant, focusing on grant writing and project management for First Nations in BC. She is passionate about economic equity and reconciliation within economic development. 

As the Vice-President of the Canadian Geoparks Network, she continually works to elevate First Nations' priorities and voices in UNESCO designated spaces nationally and internationally. Sarah is a proud mother of two sons, residing within Treaty 8 Territories.